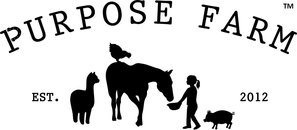 Please Read BEFORE Visiting The Farm!
Our one to one mentoring sessions for youth and caring for the 40 plus rescued animals is our main mission at Purpose Farm but we also want to take time to give tours to others interested in learning more about the farm. It is important to us to take time with each visitor by showing them around, introducing them to some of the horses and other animals at Purpose Farm and do our best to answer individual questions. To ensure that someone will be available for you, we ask that ALL visitors e-mail tour@purposefarm.org to schedule a tour before just stopping by the farm.
In planning your visit to Purpose Farm, please take a moment to look at our events page. There you will find dates of community events you might wish to attend. Also, there will be days listed when the farm is closed.
Do NOT just stop by the farm with out an appointment. Unfortunately we are not big enough to have staff or volunteers to have set hours for tours or just drop ins.
You must have a release form filled out before touring the farm. Click HERE to download one.
NO personal dogs or any other animals are allowed at the farm. NO EXCEPTIONS! This is for the safety of your pets and for the animals that live at Purpose Farm.
The Seabrook Family lives in the dark brown house with the red door. Please do not just walk in the front door or peak in windows.​
Thank You!