Exotics and Small Animals
Purpose Farm has realized that there is a need for exotics and small animals that need rescuing too. We can not take a large amount of these animals as they have to live inside with special habitats and climate controls. They too will live out their lives here at Purpose Farm. Big and small they all have a purpose!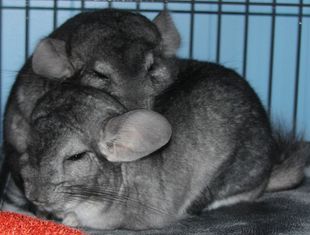 Tequila and Chili
Chinchillas
Estimated DOB: November 5th, 2015
Arrival: Christmas Eve 2015

Tequila and Chili stay in the same room with P.J. the bunny. They are cute, lovable and have a unique personality. They sleep all day and are up running round at night. They need to have a cooler temperature and enjoy dust baths and raisins.

---
---
Meet PJ. 🐇 Sebastian one of our middle sons sold all of his gaming systems when he saw PJ and his story online at our local SPCA. PJ is 7 yrs. old and the average life expectancy of rabbits is 8-9 yrs. old. Sebastian knew he could not let PJ live out the rest of his life at a shelter. PJ is very spoiled living out the good life with tons of freedom with his chinchilla friends. Sebastian refuses to make him stay in a cage so he has a cage for his "room" and it is connected to a very large play yard for when no one is in the room and when someone is he is totally free.
---
---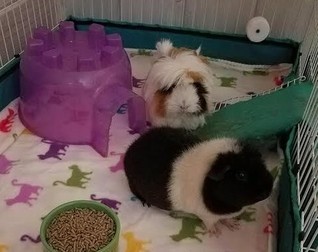 Stella Long Hair Calico and Mabel Black and White Teddy Bear
Guinea Pigs
Females
Estimated DOB: Mabel May, 2013 and Stella May, 2014
Arrival date: Mabel January 23, 2014 and Stella January 18, 2015

Mabel was sold as a boy to a family. They put her in with other boys and she later had babies. That is when she was returned to the rescue. All her babies found homes and she was left. A year later Stella was advertised on craigslist by a store employee that was worried for her because she was 8 months old and no one was interested in her. Raven knew God was saving her for Mabel to have a friend. Stella and Mabel are very happy piggies. When the two of them get going you can hear them squealing and whistling all through the house.


---
---
Gabby and Sophie
Sugar Gliders
Females
Estimated DOB for Gabby: 2010
​DOB: July 22, 2016
Arrival date: Gabby Summer of 2012 and Sophie October 25, 2016


Gabby had two previous owners so it took a long time for her to bond with us. She has bonded the most with our youngest son Asher. After years of having Gabby by herself, Asher thought she was getting sad and he wanted to find her a friend. That is when he found Sophie online. Sophie was returned back to the breeder after a lady bought her and decided she was not a good fit for her other sugar gliders. She said she was too loud. No one was showing any interest in her and the breeder was just going to keep her until we came along. We tried Gabby with Sophie and they bonded with each other right away. It was so beautiful to see how Gabby took to her and wanted to be by her side.


---