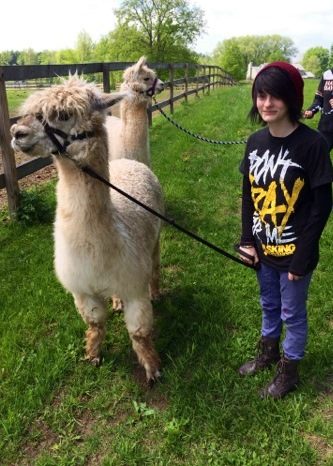 Finbar
Barn name: Finni
DOB:10/28/07 light fawn
Finni is the oldest. He loves to play in the sprinkler and have us hose him down. Finni also loves carrots.




Jackson
Barn name: Jax
DOB:08/23/08 white
Jax is the one to stand in the background. He really is not sure of things and waits for the others to say its ok. Jax is the largest and is a great escape artist.
---
Copper
Teacup Pig
Male: black with white belt
DOB: October 23, 2011
Arrival date: June 26, 2012

There has never been a happier pig then Copper. Nothing bothers him and he is always swinging his tail. Copper is house broken and is trained to sit, jump and spin! He lives in the house with us year round.
---
---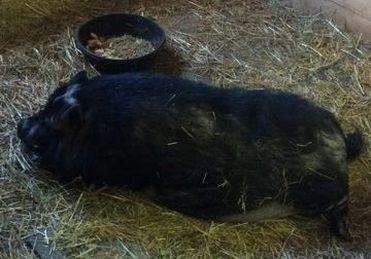 Chris P. Bacon
Potbelly Pig
Male: all black
Estimated DOB: 2011
Arrival date: March 2014

Chris P. is a big teddy bear. He makes a lot of noises but he is harmless. He is a very picky eater and loves to have his belly rubbed. We call him misunderstood. We rescued him from the south side of Syracuse. He was living in a wired in area with a tarp over it in someone's backyard on the main street. He was in there for so long the ground over grew the wire fence and we had to get wire cutters to get him out. Howard saw him when he was doing a plumbing job for the owner. He is enjoying the good, free farm life!
---
---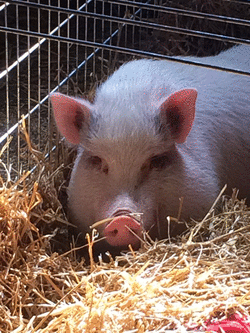 Lilith
Tea cup Pig
Female: Pink
Estimated DOB: 2012
Arrival date: March 2014


Lilith was rescued along with Chris P. Bacon. She was kept inside the house, upstairs in a bedroom with multiple dogs. She had never been outside a day in her life until we picked her up to bring her home. She has disfigured feet but with regular trimming at Cornell she is able to walk just fine. Lilith can be a little moody but loves attention and loves to cuddle. She will eat anything you put in front of her. One of her favorites is peppermints.


---
---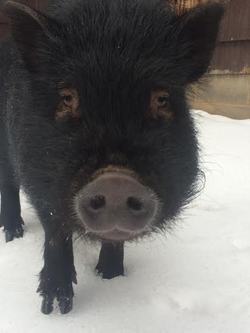 Ziggy the Piggy
Tea cup Pig
Male: Solid black
Estimated DOB: April 1st, 2015
Arrival date: December 1st, 2015

There was a picture of this little pig floating around Facebook from the Humane CNY. They took in a pig that needed a home and reached out looking for assistance. When we were called I was hesitant to go look at him as I knew we could not take in any more rescues and we had just taken in the new pony, Willow Grace. They really needed someone who has experience with pigs, and needed him to be in a safe home. So we went and looked at him. Of course how could we say no. We were told he was being passed around from home to home on the Northside of Syracuse. It was said that his last home said they were going to butcher him so a nice lady stepped in and said she would give him $50.00 to take the pig off his hands and that is how he ended up at the Humane CNY. He is all baby and full of cuteness. He has high energy but so well behaved and lovable! He is house broken and lives in the house with us year round.
---
---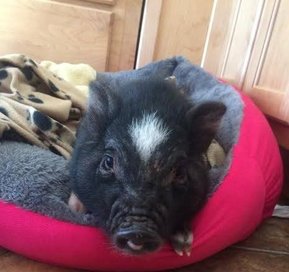 Ruby
Tea cup Pig
Female: Black and White
Estimated DOB: March 26, 2016
Arrival date: May 9th, 2016

Ruby was purchased at a local pet store by a 17 year old girl. She realized within less than 24 hours that a pig was not for her. Her mom contacted us to see if we would take her. We had so many pigs already but we figured we would foster her till we could find her a home. When she arrived at the farm we noticed she had dippity pig syndrome which is caused from stress. It was at that time we decided it was best for us to keep her as stress will only make her worse. She is the smallest of the pigs and she is quite the diva. Everyone loves her and can't get enough of her. Our family thinks she is one of rewards from God. We always wanted a baby pig but rescuing is what we do and how often does a baby pig need to be rescued.
---
---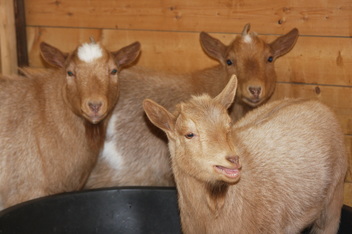 The 3 Goats
Brothers Cain and Abel and their half baby brother Rex
DOB: Cain and Abel July 16th, 2013
DOB: Baby Rex April 16th, 2015
Arrival date: September 2nd, 2015

Raven found an ad on craigslist that was posted of two goats needing a home or they would become food. I hesitated because not only are we tapped out money wise but can we really add more animals to the farm time wise? The next day Raven came to me saying that she could no longer find the ad and she was angry with me to say the least not knowing what happened to the goats. So I texted the lady and her reply was to come get them, the sooner the better as her husband was going to be butchering one this weekend. So with in an hour we drove to see them. When we got to the pen not only did we see the two goats that were advertised but there was this tiny little baby goat laying down just starring up at us. I inquired about him. The lady and her husband both said, oh Rex, you don't want him, he is not a nice goat. As I continued to check out Cain & Abel I knew I had to further inquire about Rex. They just kept saying that we did not want him and that he is not like a normal friendly goat, and he wants nothing to with people that is why they did not advertise him. That's when I knew that he was a perfect match for our farm. We may have came to save Cain & Abel but Rex I think was the real reason. So I asked if we could buy them and after a pause the husband said I guess so if she is hell bent on him.
We went home to make sure we could take on 3 more animals, not that it was really up for conversation. Asher was determined he was going to save Rex and socialize him. So we rented a truck and brought them home!
The couple was really a nice couple and they have several animals of which they live off of, and they were all kept very nicely. I am not so sure that they were really gonna eat them even though they assured me that they have no use for them and with Rex being not friendly that is where they were going to end up. Either way doesn't matter to us, the ad led us to the three of them and I know how much joy they are going to bring to everyone who meets and works with them.
---
---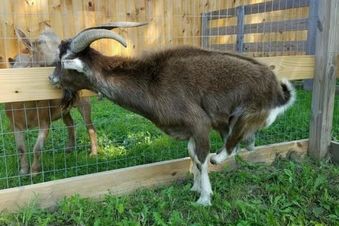 Gilbert the Goat
Estimated DOB: February 2015
Arrival date: September 2nd, 2015

Pretty much everything that God calls us to do rarely makes sense however he ALWAYS knows the bigger picture. I was contacted by Molly Williams, a woman who has aided in animal rescues in the past, like Romeo the rooster. She knew of a goat that was in dire need of a home. She had been trying since spring to find him a home but no one would take him. Sounds like God had a plan in mind. The goat was born as a meat goat. As a baby he had severe frostbite and not only lost half of each ear but his hind feet. So when the owners went to take him and his brothers to slaughter they rejected the goat as you can not slaughter injured animals. The owner figured he would just bring him home and do it himself, but when he saw what a fighter he is the owner decided not to slaughter him but also did not want to keep him. When I read the first part of Molly's message I thought NO, we can not take on anymore animals financially and time wise. But then I saw the picture and video and there was an immediate without hesitation knowing, that we absolutely needed to take this goat. He loves to give kisses and the kids really bond with him.
---
---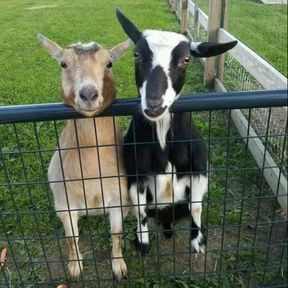 Summer and Ariel
Summer: fawn color
Estimated DOB: 2010
Ariel: black and white
Estimated DOB: 2014
​Arrival date: May 2017
​
Summer & Ariel came to Purpose Farm when their previous owner's house was going into foreclosure and she could no longer keep them. They are very sweet and personable. They both love doing Goat Yoga and you will find Summer in most Goat Yoga selfie pictures as she loves to pose with people. Summer is very girly and Ariel is a tomboy wrestling with the boys.
---