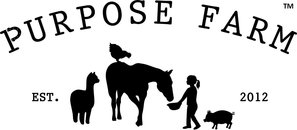 FAQ
Some of your questions may be
answered below.
Purpose Farm is a 100% volunteer based organization. We do not have paid staff that can tend to all aspects of the farm. Thanks for being patient. :)
If you are inquiring about surrendering an animal we are currently full. We care for over 40 farm and exotic animals. We can not take in any more rescues at this time.
If you are inquiring about one to one mentoring sessions we are full for this year. Unfortunately we are a 100% volunteer base organization and we are just not big enough yet to see every child that needs to come to Purpose Farm.
If you are inquiring about an individual/family or group tour we are full for the next couple of months. We encourage you to attend one of our on farm events to tour the farm and see what we are all about. Check our facebook page www.facebook.com/purposefarm to see all of our events.
Thank you for your patience!!!
​