Our Feline Family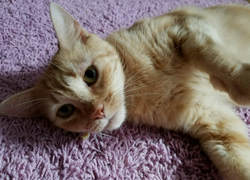 Meet Iris Ann
Formerly Dee at the SPCA
Orange Tiger
Estimated DOB: April 25, 2009
Arrival date: June 10, 2017
​


Iris Ann was adopted from the SPCA in June of 2017. She was the cat that was there for the longest time going on almost a year. She also was considered a hard to adopt cat as she was not allowed to be adopted to a family with kids or other animals. So how did she end up at Purpose Farm? It was a busy day at the SPCA with tons of potential adopters. So we gave the girl our list of cats to visit with and Iris was on the list. When they brought her out they warned us that she was a very timid cat and also a very vocal cat. And that she was. She ran right under the bench and kept screaming out with loud meows. She wanted nothing to do with anyone in the room, except for when she was placed on Raven's lap she calmed right down and turned into a semi normal cat. We then decided she needed us to save her. Being at the shelter for so long in a crate had taken a toll on her spirit and she had lost all hope. We told the girl that Iris was the one. But than she told us that she did not realize that Iris was not to be adopted to a family with kids or any other animals and being that we were Purpose Farm and kids and animals is what we do we could not adopt her. We explained to her that rescuing the unwanted animals that don't make sense is exactly what we do and that we knew what we were getting into. Iris Ann would be welcomed at the farm on her terms. She proceeded to run it by the manager. He said if Iris had any chance of finding a home it would be at Purpose Farm and home she came!
Iris was very scared and lived in the bathroom for about 2 months. Raven would sit next to her for hours just to earn her trust. It paid off. Iris was then moved into Raven's room where Iris really blossomed and had access to the rest of the house. At night and during more quiet hours Iris would roam the house exploring all the rooms and other animals such as the pigs, dog, sugar gliders, guinea pigs, chins and rabbit. Building her confidence at her own pace. She continues to grow more confident everyday and we look forward to see more of Iris as the years go by. We found out that she loves to dress up in sweaters and dresses and pose for the camera. Who knew she was such a diva under all that timidness!
---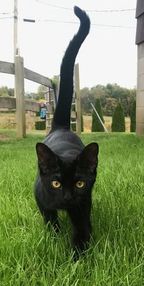 Meet Hermione
Black
Estimate DOB: June 1, 2017
Arrival: July 14, 2017

Hermione was just about 6 weeks old when she was rescued from the Northside of Syracuse. Howard was doing a plumbing job when he saw a tiny black kitten in the grass. He said to the owner is that your kitten? The owner of the house replied that it was the last of the kittens from his cat and they threw her outside and won't allow her back in because she is infested with fleas. Later that night our youngest son Asher went with Howard to bring her back to the farm. When she arrived we tried to bath her but she was too infested. We took her right up to the emergency care clinic where they assessed her and gave her meds to kill all fleas with in 30 minutes. She was up and going the next day! She quickly became bonded with Asher as her surrogate. Hermione is a special kitty with both her front paws being polydactyl. She is an extremely friendly but highly active kitten who loves to explore, climb, run and cuddle. She drives Iris Ann crazy yet keeps her company. We look forward to many years ahead with Hermione at the farm!

---